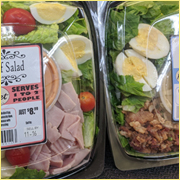 In addition to our salad bar (available Monday through Friday), we also offer perfectly-sized prepared salads. We do everything fresh and in house! We cut our own fresh romaine hearts and even use our own homemade herbed croutons.
Stop in to find these fantastic salads:
Cobb Salad: made with crumbled blue cheese, hand-shredded hard-boiled egg, crispy bacon, and freshly chopped tomato on a bed of chopped romaine. Our cobb salad is paired with savory-sweet honey mustard dressing.


Chef Salad: featuring our own oven-roasted herbed turkey breast, swiss cheese, imported ham, and hard-boiled eggs, our cobb salad sits on a bed of freshly chopped romaine hearts and is paired with thousand island dressing.


Chicken Caesar Salad: crisp romaine, shredded parmesan cheese, our own herbed croutons, and paired with Caesar dressing. This simple yet delicious salad is topped with seasoned chicken we make fresh right here in the store. You'll love it!


Cranberry Walnut Salad: we start with a bed of fresh spring mix and top it with copious amounts of crumbled blue cheese, walnuts, and dried cranberries. This special salad is paired with our very own famous house-made balsamic vinaigrette dressing.


Crispy Chicken Wrapped Salad: fresh romaine lettuce, crispy bacon, diced red onion, and cut-up deep-fried chicken fingers are mixed together with a savory buttermilk ranch dressing and wrapped in premium white tortillas.


NEW - Southwest Chicken Salad: grilled chicken with pepper jack cheese, sweet corn, diced tomato, peppers, and onion on a bed of fresh romaine lettuce. Our cilantro-lime vinaigrette is what really makes this one a new favorite!