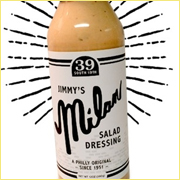 A Philly Original since 1951

"The Milan opened its doors in 1951 at 19th & Chestnut in Philadelphia and became a landmark destination for celebrities, gangsters and their kids. Though we served many legendary dishes, everyone started with the famous Milan Salad.

A simple salad with such a following, it continues to appear on menus far and wide. Though the restaurant may have closed its doors, the tradition lives on in our dressing."