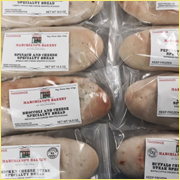 A loaf of Italian bread, filled with blended cheeses & hearty ingredients; A family recipe going back four generations.

We carry 13 different varieties of Marchiano's Specialty Breads on a daily basis.
Pepperoni & Cheese: Hormel Pepperoni exclusively cut to our specifications and our own blend of natural cheeses baked together in this famous specialty loaf.
Cheese Steak: Thinly sliced steak is topped with our own blended cheeses to fill this popular bread.
Cheese Steak, Sauce & Onions: Our famous CHEESE STEAK bread with our homemade red sauce and fresh cut onions.
Pepperoni Cheese Steak: A popular combination of our CHEESE STEAK and PEPPERONI breads baked together in one loaf, which is sure to be a customer favorite for years to come.
Ham & Cheese: Chipped imported Danish ham baked with our tasty cheese blend.
Broccoli & Cheese: Sautéed chopped broccoli layered over our blended cheese and baked to perfection in this specialty bread.
Spinach & Cheese: Spinach chopped and sautéed with garlic and oil perfectly layered with our blended cheese to provide the nucleus for Philadelphia Magazine's Best of Philly award winning breads.
Italian Sausage, Peppers & Cheese: Mild Italian sausage with bell peppers & our blended cheeses.
Tomato, Garlic & Cheese: Sliced vine ripe tomatoes are specially seasoned to complement our blended cheese and our unique bread in this Italian treat.
Pepper, Egg & Cheese: Cut bell peppers are spooned over freshly scrambled eggs and topped with our blend of natural cheeses. Baked to perfection, this traditional loaf adds the main ingredient to a delightful breakfast, brunch, or light supper.
Bacon, Egg & Cheese: Bacon fried to a perfect crispness with fresh scrambled eggs and our blended cheeses.
Chicken Cheese Steak: Fresh chicken breast seasoned to perfection with our blended cheeses.
Buffalo Chicken Cheese Steak: A spicy twist on our CHICKEN CHEESE STEAK bread. This popular new sensation is sure to be a favorite at all of your tailgate parties.